Choosing the right high-performance coating is essential to meet the peformance requirements of commercial or industrial environments.
The chart below compares all three SEAL-KRETE high performance coating systems to make buying the right system easy.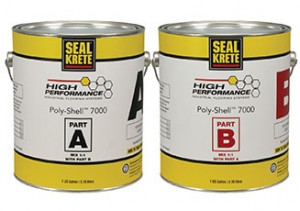 Utilizing the latest development in Polyaspartic coating technology, Poly-Shell is the most durable coating available.  It dries quickly and provides unparalleled rapid return-to-service.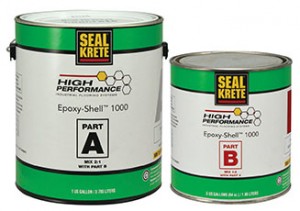 Epoxy-based coating system, blends durability with outstanding adhesion properties.
Durable two-part water-based aliphatic urethane that provides both heat and chemical resistance and excellent protection against UV rays.
SYSTEM COMPARISON
Poly-Shell 7000
Epoxy-Shell 1000
Dura-Shell WB
Mixing Ratio
1:1
2:1
3:1
Pot Life
20 min.
45 min.
60 min.
Solids Content
70%
100%
68%
Re-Coat
2 hours
12 hours
6 hours
Light Traffic
12 hours
24 hours
24 hours
Heavy Traffic
24 hours
72 hours
5 days
Application Temperature
-20°F to 120°F
50°F to 90°F
50°F to 90°F