Educational flooring is unique. First and foremost keeping the students safe is top priority. Educational flooring needs to offer long-term protection from bacteria, fungi, and mildew, just to name a few. The floors also need the added protection of being anti-slip. Here at Seal-Krete HP we offer several options that meet these requirements. From the standard Epoxy-Shell 1000, double broadcast quartz floor, to a more cost effective Epoxy-Shell WB 250, a waterbased epoxy version, Seal-Krete HP has your floor covered.
Don't forget to consult with our team of professionals to help you decide which floor would best suit your needs.
We also offer the following systems for educational floors:
Solid Color System
Solid color, high gloss coating for both interior / exterior commercial and industrial use.  Consists of two coats of Poly-Shell or Epoxy-Shell Tinted with a Poly-Shell Clear top-coat.  Solid Color System is the most economical solution for a chemical and abrasion resistant flooring system and provides unmatched performance when rapid return-to-service is required.
Double Broadcast System
A seamless, double-broadcast polyaspartic quartz system for interior/exterior use designed for maximum durability and ultimate protection. Multiple layers of colored quartz are broadcast into Poly-Shell Clear and top-coated with Poly-Shell Clear for added protection and chemical resistance. This ultra-durable system is available in standard and custom quartz color combinations.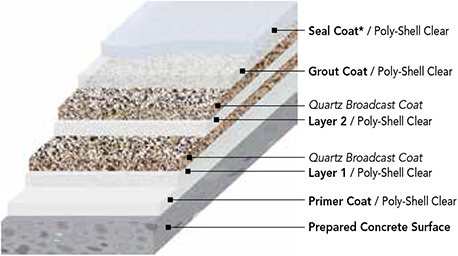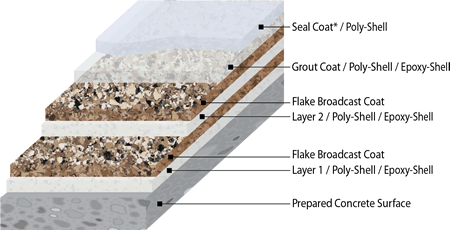 Double Flake System
A double-broadcast, multiple coat flake system in which full coverage vinyl paint chips are suspended in two layers of Poly-Shell or Epoxy-Shell Clear and top-coated with Poly-Shell Clear for added durability and chemical resistance.  Excellent hiding makes this the perfect system for irregular or imperfect interior/exterior concrete floors.
Metallic Systems
Metallic systems are applied using Epoxy-Shell with a Poly-Shell topcoat.  Metallic pigments add an elegant one-of-a-kind look to these durable floors.
First apply a primer coat of Epoxy-Shell Tinted (use Black Knight #950 for dark colors or use a light-colored primer for light metallics). Pigments are then mixed with Epoxy-Shell and applied on top of primer.  A topcoat of Poly-Shell is recommended for additional chemical and abrasion resistance.
Metallics are available in 9 colors that can be mixed to create hundreds of color combinations and custom looks.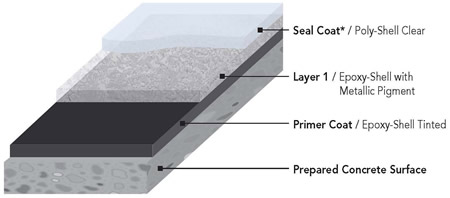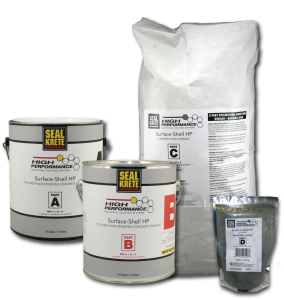 Polyurethane Concrete System
Polyurethane-modified concrete flooring system designed for long-term durability and strength. For floors that require impact and thermal shock resistance. Surface-Shell HP outperforms epoxy floors and has many physical properties that exceed those of concrete.