Manufacturing & Industrial
The manufacturing and industrial demands on a floor require a product that will stand up to rigorous environments.  Seal-Krete HP offers several options ranging from our ROCK-SOLID and DEPENDABLE Epoxy-Shell 1000, 100% solids epoxy, double broadcast quartz floors, to our cost effective Epoxy-Shell WB 250, water-based epoxy floor for foot-traffic and light industrial use.
Consult with our team of professionals to help you decide which floor would best suit your needs.
We offer the following systems for the manufacturing and industrial industries:
Solid Color System
Solid color, high gloss coating for both interior / exterior commercial and industrial use.  Consists of two coats of Poly-Shell or Epoxy-Shell Tinted with a Poly-Shell Clear top-coat.  Solid Color System is the most economical solution for a chemical and abrasion resistant flooring system and provides unmatched performance when rapid return-to-service is required.
Sparse Flake System
Designed for interior / exterior light industrial or residential use.  A durable, high gloss finish that consists of sparsely broadcast vinyl paint chips suspended in a layer of Poly-Shell Clear or Epoxy-Shell Clear and top-coated with Poly-Shell Clear.  This system is both durable and chemical resistant.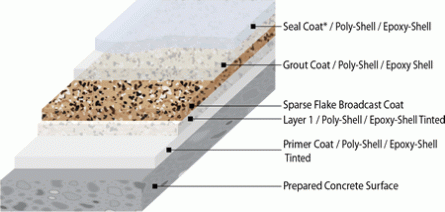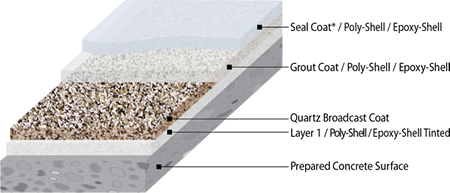 Single Broadcast Quartz System
Ideal for both interior/exterior light industrial and residential applications.  A single coat of colored quartz aggregate is broadcast into Poly-Shell or Epoxy-Shell Tinted and sealed with Poly-Shell or Epoxy-Shell clear, providing a long-lasting maintenance-free floor.  This economical quartz floor has a faster return-to-service.
Polyurethane Concrete System
Polyurethane-modified concrete flooring system designed for long-term durability and strength. For floors that require impact and thermal shock resistance. Surface-Shell HP outperforms epoxy floors and has many physical properties that exceed those of concrete.