Polyaspartic Concrete Floor Coating.
Poly-Shell 7000
Utilizing the latest development in Polyaspartic coating technology, Poly-Shell is the most durable coating available
It dries quickly and provides unparalleled rapid return-to-service.  It is extremely resistant to heat (temps up to 350°F), UV rays, and a variety of harsh chemicals, including salt, oil, and gasoline.  Poly-Shell is also flexible and allows for natural concrete movement without cracking or peeling, making this system ideal for either indoor or outdoor applications.
FEATURES AND BENEFITS
Fewer lap-lines with better flow and leveling
Return the floor to service in hours not days
Resistant to hot oil splashes – up to 350°F
Apply from -20° to 130°F
Superior chemical resistance
Indoor / outdoor applications
For use in high traffic areas – superior resistance to abrasion and impact
Will not yellow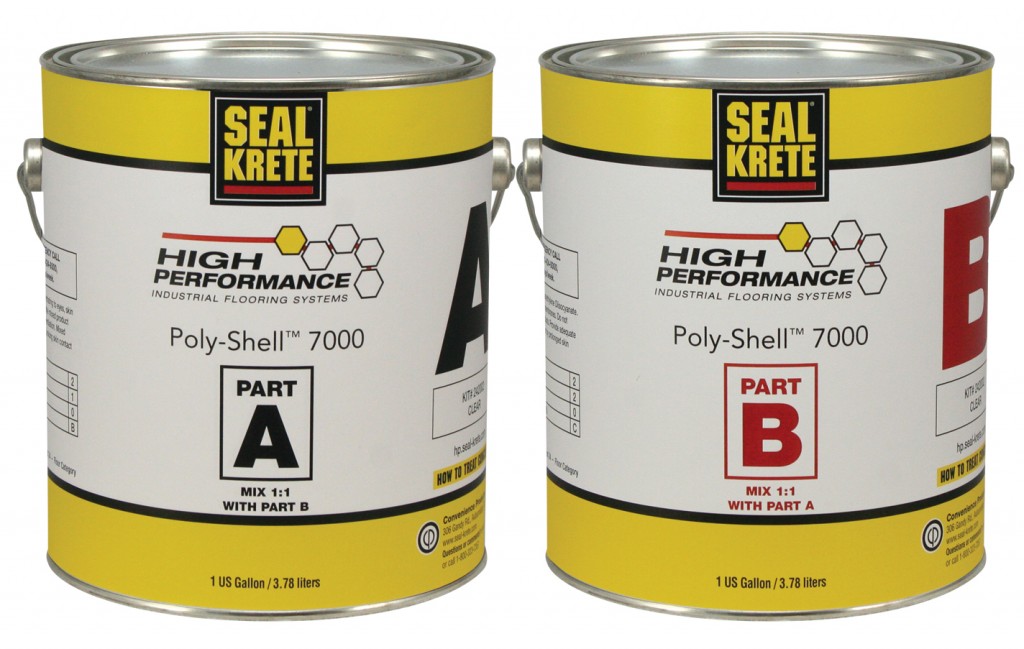 Applications
✓ Restaurants, commercial kitchens
✓ Hospitals and care facilities
✓ Manufacturing plants, warehouses
✓ Showrooms
✓ Airplane hangers
✓ Stadiums, universities
✓ Residential garage floors, driveways, patios
✓ Kennels
✓ Commercial restrooms
✓ Shop floors
Product Spec
Poly-Shell 7000 Product Specification
Solid Color System Product Specification
Sparse Flake System
Double Flake System
Single Quartz Broadcast System
Double Quartz Broadcast System

Data Sheets
SDS – US
Poly-Shell 7000 Gloss & Satin Part A
Poly-Shell 7000 Clear 2 Part Kit 2 Gallon
Poly-Shell 7000 Clear 2 Part Kit 10 Gallon
Poly-Shell 7000 Satin 2 Part Kit 2 Gallon
SDS – Canada
Product Calulator
Poly-Shell 7000 Product Calculator / Estimator
Photo Gallery