SEAL-KRETE® Epoxy-Shell WB 50 is a nationwide compliant industrial strength water-based two-part high performance epoxy coating which utilizes polyamine technology
It provides excellent adhesion, film hardness, chemical, and abrasion resistance. Epoxy-Shell WB 50 can be applied directly to concrete without the need of a primer. The coating is widely used to provide a high gloss finish to concrete floors, food & beverage and pharmaceutical facilities. It is recommended on floors and walls in equipment and clean rooms, as well as refineries, power industry, and wastewater facilities.
FEATURES AND BENEFITS:
Nationwide VOC Compliant
SCAQMD Approved
High Gloss
Great scratch & abrasion resistance
Good chemical resistance
Excellent hot tire pick-up resistance
Highly breathable, reduces blistering and peeling
Recommended for vertical or horizontal applications
Available in 8 colors.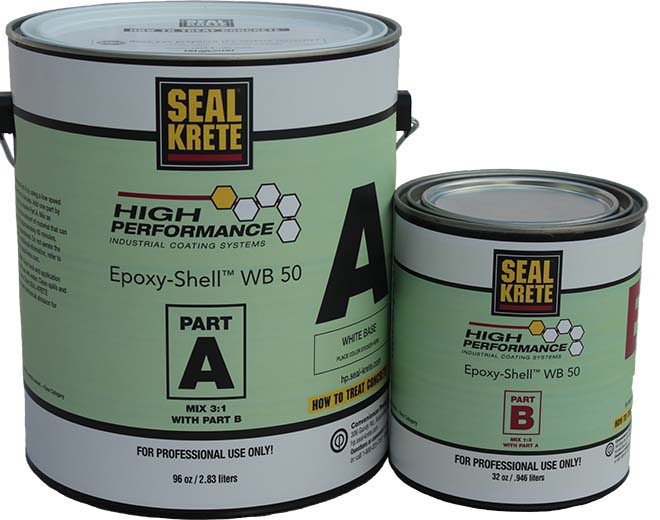 ✓ Food Processing Areas
✓ Bottling Areas
✓ Clean Rooms
✓ Sanitize / Wash Areas
✓ Kitchens
✓ Cook / Chill Areas
✓ Pharmaceutical Plants
✓ Refineries, Chemical Processing Facilities
✓ Prison / Warehouse Floors